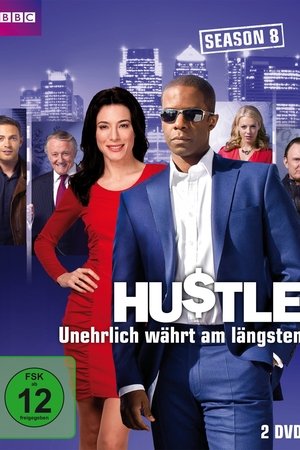 Trailer
8x1 – Gold Finger
The gang go after mouthy Dexter Gold (born Dexter Pratt) whose advertisements claim that he pays top prices for gold but cheats his customers,including Albert's friend widowed Vivienne. Furthermore he would seem to be a fence for several bullion robberies,laundering the proceeds to a German contact. The hustlers engineer an accidental meeting,claiming that they are renegade soldiers who stole gold bars from Muamma Gaddafi though only one bar is genuine. With an inside accomplice and the fortuitous intervention of the army Gold is easy to fleece. A harder task is ...
Gesehen von 3 Usern
8x2 – Picasso Finger Painting
When a Picasso is stolen from East European mobster Petre Sava the hustlers foolishly try selling him a forgery painted by eccentric Dolly Hammond,leading Petre to think they stole it from him so he abducts Micky and locks him in a car boot until his property is returned. The group learns that another gangster,Harry Holmes,has had the picture stolen to impress his upper class father-in-law and mount an operation to retrieve it. When both Sava and Holmes turn up,mob-handed,for the hand over Ash knows how to set them against each other.
Gesehen von 3 Usern
8x3 – Curiosity Caught the Kat
Mickey simultaneously tries to con their next mark, Linda Runcorn, while dealing with threats from corrupt Detective Inspector Fisk; meanwhile there's an old friend of Sean and Emma wanting to join the crew.
Gesehen von 3 Usern
8x4 – Eat Yourself Slender
'Doctor' Dean Deville and his wife Dana are an American couple who have made millions selling sham health food products from their Eat Yourself Slender plan but their bogus diet pills induce a heart attack in the hustlers' friend,con woman Carol. The grifters play on the Devilles' weakness, buying art treasures to sell at a profit,by stealing for them a priceless Faberge egg but this is just for starters as the main hustle involves burgling a research lab to rob a supposedly genuine slimming cure . It is,of course,a placebo - and a trap. Barman Eddie however finds ...
Gesehen von 3 Usern
8x5 – Ding Dong That's My Song
Dale Ridley,a former TV game show host sacked for corruption,is now an equally dishonest property developer,bribing his way into getting what he wants but clever enough to let his minions appear to be the twisters. When he demolishes Albert's favourite pub the hustlers decide to make him their latest mark. Posing as American businessmen Albert and Micky persuade him to buy into their consortium which is aiming to purchase London City Studios,the very building from which Ridley was sacked and which he is itching to bull-doze. The appearance of Ash's young godson Alfie,...
Gesehen von 3 Usern
8x6 – The Con Is Off
The final series comes to a dramatic conclusion when Mickey proposes taking on their most dangerous "Mark" yet. In the Team's sights is Madani Wasem, who inherits his fathers Bahraini business. Unpopular with the Company directors, who have prevented him taking control, he operates using violence and threats to get what he wants. He has to prove he can make money for the Company before the Board will let him take control and this is what Mickey intends exploiting. Mickey and the Team risk everything to complete the con with a surprise or two along the way.
Gesehen von 3 Usern
Quelle:
themoviedb.org