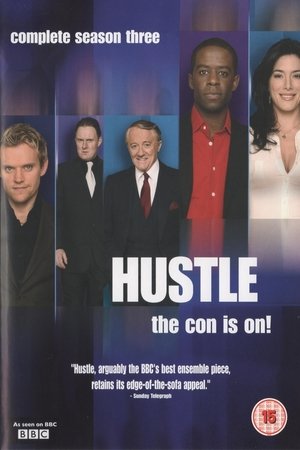 Trailer
3x1 – Price for Fame
The team plan to con a violent businessman out of a hundred grand by pretending to be music promoters interested in representing his young son.
Gesehen von 4 Usern
3x2 – The Henderson Challenge
Danny and Mickey have been bickering of late so Albert suggests they undertake the Henderson challenge, named after a New York con man who wanted to prove he was the best con man anywhere. The challenge is relatively simple: Mickey and Danny will be dropped off at noon in a very public location stark naked and have until 6 pm to make as much money as possible. The one with the most money wins. The two of them are soon running through Trafalgar Square in their birthday suits and the contest has begun. Danny focuses on what he does best - the short con, making a few ...
Gesehen von 4 Usern
3x3 – Whittaker Our Way Out
Con artist JW3 (James Whittaker Wright III) arrives on the scene hoping for revenge on the bank responsible for ruining his grandfather - who sold fake gold mines on the stock market. The team step into action, with Danny posing as a City businessman, but it's not long before they come unstuck and realize their ally could be just as deceitful as they are.
Gesehen von 4 Usern
3x4 – A Bollywood Dream
Albert identifies their next mark, Kulvinder Samar, a businessman with a love of Bollywood movies. Their play is quite simple: convince him to invest in their Bollywood movie and even offer him a part in the film. Samar is arrogant and runs a sweatshop so as far as they are concerned, he's an ideal target. The con is just a little too perfect however and he's soon on to them. Fate intervenes in the form of a car accident resulting in Samar losing his short-term memory. The con artists decide to just run the con over again - a little less perfect this time - but Samar ...
Gesehen von 4 Usern
3x5 – The Hustlers News of the Day
When Stacie's friend attempts suicide because of a slanderous story about her by a newspaper. The team, expectedly, decide to make a mark out of the newspaper. A false headline about the identity of the queen mother quickly intrigues the chief editor and his top reporter. However, the editor isn't the only one worrying about the truth of the story.
Gesehen von 4 Usern
3x6 – Law and Corruption
The crew are blackmailed by a policeman to catch Adam "The Ghost" Rice, a famous thief.
Gesehen von 4 Usern
Quelle:
themoviedb.com